One Tube of Sealant will fasten about thirty (30) Sno-Safe Original Snow Guards
Everseal Adhesive Sealant
Versatile, high strength, hard setting, one-part adhesive sealant for fastening snow guards to roof. Superb 2,000 PSI tensile strength. Water and weatherproof. Ideal alternative when mechanical fasteners cannot be used.
Applicable Substrates:
Metal
PVC
Rubber Membranes
Plastic
Vinyl
Glass
Wood
Cement
---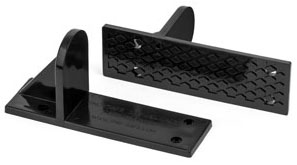 ---
Square channel grooves for adhesive increases shear strength
Application:
Interface and surfaces must be clean, dry and free of dust, dirt, oil and water-proofing and release agents. Cut cartridge nozzle at slant to 1/4" hole and puncture inner seal, apply bead size as desired. Apply uniform bead with steady pressure. Tool immediately after application to ensure full contact with both sides of the joint area. Sealant starts to skin over in 20-25 minutes. Minimum application temperature of 50°F.
SB-190 works well with all kinds of paint, including Kynar-500® and other polyester and synthetic baked on paint finished used for metal roofing. However, we do not recommend using adhesives with copper or lead roofs.
NOTE: Do not use SB-190 on copper or lead. Only use on TPO in conjunction with fasteners.
Best-Selling Polycarbonate Snow Guards
---
Looking for a Snow Guard Colour We Don't Have Listed? Contact us directly at info@sno-safe.ca to discuss custom colours
---