---
Snow Guards Spacing Calculator
Use the calculator tool below to determine how many snow guards you need for your project, as well as what pattern to install them in.
---
How do I calculate the slope of my roof?
How do I calculate the panel span width?
Note: Verification with the roofing panel/system manufacturer is recommended prior to installation of snow guards this includes but is not limited to panel loading, fastening and installation details and substrate material/thickness.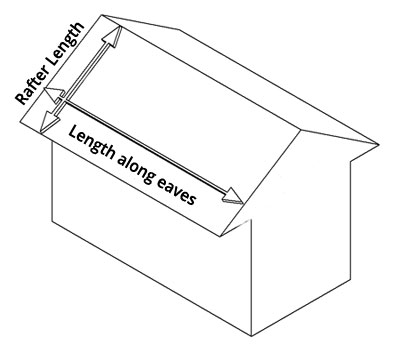 This calculator is for general estimation only and is purposed to provide Sno-Safe snow guard layouts for rectangular roof areas. If you have a triangle-shaped roof area, please divide the measurements by half for more accurate quantities.
---
Warranties regarding the integrity of the installation of Sno-Safe snow guards must be the responsibility of the parties performing the installation. The ability of the roof to hold snow loads is the responsibility of the structural designer and builder in compliance with local codes.
---
Any guaranteed retention calculations would need to be performed by a structural engineer/architect intimately familiar with the snow conditions for the geographic area and the properties of the typical snow falls for the area. The shear strength of our guards can be relied upon for such calculations but the weak point is always going to be the quality of the installation by the contractor.
---
Please Complete the Following Spacing Form
A new window will open after form submission with your Spacing Results. This report will include both recommended quantity of Snow Guards and Installation Pattern. It will also determine how many tubes of Adhesive Sealant are required.
---
---